Jamie Foxx "On The Dot" Feat. Fabolous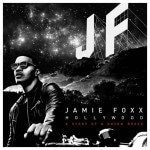 I did additional production for the song "On the Dot" on Jamie Foxx's recently released album called Hollywood: A Story of A Dozen Roses. Mainly all the drums you hear Ken and I did. The song was produced by Vinylz and Boi-1da, both hugely talented in their own right and not to mention good guys of the music industry.
The song kind of has this old school swing to it that I love. Reminds me of a D'Angelo beat.